Long Distance Relationship (first promeses)
admin, 9 months ago
0
2 min

read
391
To be honest with you , there is no successfull relation without trust, honest, and promeses . and this is what our relation based on mostly.
I can't tell all our promises in just few line but I would say that the power of trust that we get until now will be really good enaugh allowing as to move toward a good relationship , we where not used to fighting anymore because we really really believe that there is not any relation without misunderstanding and conflicts but the good ones are whos able to handle thier troubles by thier selves and with discussion and understanding, we shouldnt close our mind in our own ideas and force it but we should understand the other side to the maximum ..
And most of the times promises was attached to future plans may be right, so our plans are very simple, kind and we don't ask much from each other we just want to build our own family in a good way in safe and peace , spent our favorite time in Traveling , yes Traveling was our first motivation to establish our future to spent our time together even if we want to have a stable family and kids but we never thought to stop traveling, I know some people they never even have kids if they spent their lives in discovering the world they are even changing their way of life, but sorry for the word some people they don't even have a life they just spent it all in traveling .
but we never wanted to leave our life because we wanted to build it together from zero and wanted to discover the world as much as we can without neglect our life.
And these promises will never gonna be true if we didn't meet in real life, do you know this really makes a feeling of fire inside, hh you must try it right .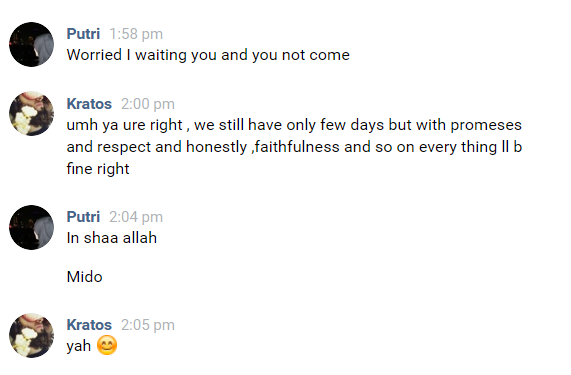 At this time we didnt wanted to lose eachother anymore even we still we didnt know eashther much but I dont know why we where acting like this .
Related posts
Like Us On Facebook